"Feasting at the LinderHof"
– as our regular guests like to say "eating out" in our restaurants. The team at the LinderHof Erfurt restaurant spoils you with fresh and regional products. Enjoy delicious German Thuringian cuisine and the best steak specialties! To enjoy the beautiful weather in the summer, you can also dine on our terrace – ideal for a relaxing break in Erfurt. Just after an extended bike or motorcycle tour through the Erfurt countryside.
"Fresh Country Quality"
– a regional menu, the culinary promise of the Hotel & Restaurant LinderHof. With modern kitchen practices, our kitchen team cooks homemade Thuringian specialties. They combine Grandma's recipes in a loving way with modern cuisine – or, in other words, a living tradition!
You can enjoy homemade Thuringian dumplings, apple red cabbage, the best quality steaks or trout from the region. And of course, the bourgeois regional dishes, such as the Thuringian Rostbrätel or Braised Sauerbraten, are particularly popular. The steaks are of the highest quality, coming from Argentina's Black Angus beef and the rodeo beef comes from pure grazing cattle that only eat grass and herbs, giving the meat its spicy character.
During the summer months, we regularly organise barbecue evenings. The smoker grill is particularly popular with small groups and is perfect for business events with colleagues or private celebrations with your friends and family. On holidays and other occasions, we offer various events and brunch.
Cuisine: Regional German Specialties & Steaks
Locations: Restaurant, farmhouse parlour, terrace, beer garden, "Wintergarden" and Tuscany room.
Opening Times:

Monday – Saturday  18 – 24 h
Kitchen 18 – 21.30 h
Sunday: closing day
Reservations for celebrations or events are possible at anytime.
Reservations:
T:  +49 361 44180
E: info@linderhof-erfurt.de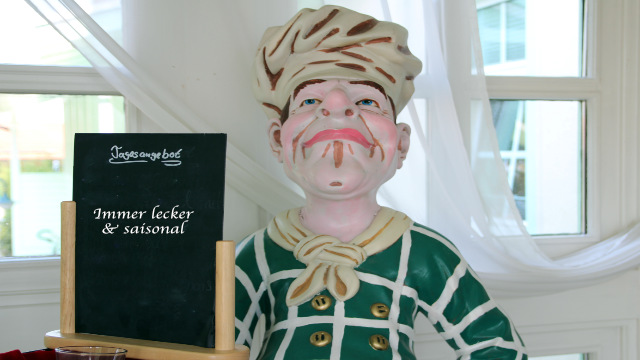 Small mixed salad buffet
€ 6,00

Carpaccio of the Black Angus Cattle with shaved parmesan and small salad buffet
€ 11,50

Smoked Salmon Tartar
Dill | apple | potato rösti
€ 9,80

Erfurter Schnippel Soup
Vegetables | Potatoes | Beef 
€ 5,80

Potato Leek Soup with cream and Croutons
€ 5,80

Fish from the Farm Shop in Erfurt:

Fried Trout with a potatoes crust
€ 15,90

Pike-Perch fillet roasted on the skin
Saffron | Spinach | Rice 
€ 16,90

Vegetarian Dishes:

Spaghetti Salad | grilled Vegetables 
€ 11,00

Cous cous | Vegetables | lentils
€ 12,50

Meat Dishes & Thuringian Specialties:

Thuringia Plate
Bratwurst (Sausage) | Rostbrätel (Meat) | Savoy Cabbage | Slices of Dumplings 
€ 14,90

Large Thuringian Bratwurst (Sausage) from the local butcher
Creamy sauerkraut | Stewed Potatoes
€ 13,50

Bierfleisch (Beer Meet)
Green Beans with bacon | Serviettenknödel (Dumplings)
€ 15,90

Fawn
Cranberries | Brussels sprouts | potatoes gratin
€ 20,90

Kalbstafelspitz (pot roast veal)
Horseraddish Sauce | Root vegetables | Bouillon Potatoes
€ 18,90

Fawn
Cranberries | Brussels Sprouts | Gratin Potatoes
€ 20,90

Sirloin Steak
200g € 16,50
300g € 21,00

Rumpsteak
200g € 19,80
300g € 24,30

Grilled Turkey Breast Steak
200g €13,50

Your steak will come with homemade herb butter and salad.

Optional Side Dishes à € 3,50:

Herb mushrooms
Bean bouquet
Fried potatoes
French fries
Baked potato with sour cream
Garlic baguette

Desserts

Kirschmichel
baked pudding | Sour Cherries
€ 7,80

Grießflammerie
Semolia Pudding | gelled berries
€ 7,80

Honey-Poppy-Seed-Parfait
€ 7,80

Cheese Platter for hearty connoisseurs: cheese selection with fig mustard
Small selection – 4 pcs € 7,50
Large selection – 8 pcs € 12,50

All prices are per person and include the current VAT. In addition to our fixed menu, we offer seasonal dishes. Take a look in the culinary calendar.