Best Holiday Deal 7=6
Discover Thuringia!
Thuringia Holiday Special
Whether you're off for an active vacation, family trip, or a cultural holiday, our Thuringia vacation package makes your stay easy.
Immerse yourself in the fascinating world of Wartburg castle and experience its significant history. Become a true adventurer on the Rennsteig hiking trail crossing the Thuringian Forest or cycle along lovely landscapes an picturesque villages and historic towns. You will enjoy a stroll through the region's capital Erfurt or satisfy your cultural desires in the city of classic Weimar.
2021 the National Garden Show (BUGA) will take place in Erfurt. From 23rd April to 10th October 2021 colorful blossoms will characterise Erfurt's cityscape.
Your Vacation Hotel
Our Hotel LinderHof is located quiet and save outside the city center of Erfurt – away from the hustle and bustle. Perfect for relaxing. Erfurt's city center and the BUGA can be easily reached in around 20 minutes by bus or bike. We offer a restaurant, breakfast, free WiFi and free parking. When the weather is nice, dine or relax outside on the terrace or in the garden. We offer our guests free bicycles (subject to availability), so you can explore Erfurt and Thuringia in an actively and relaxed way.
Offer "Best Holiday Deal"
Stay 7 nights and pay for 6
* 7x nights accommodation
* 7x breakfast (buffet or served as per actual covid-19 regulations)
* 4x half-board (3-course dinner)
* 1 drink on arrival at the bar
* 1 BUGA (Nat. Garden Show) dayticket
* Use of hotel bicycles (subject to availability)
* Use of sauna (subject to covid-19 regulations)
* Free Wi-Fi
* Free parking / carport
* VAT & Service
Offer April 23 – October 17. 2021
Cosy Standard Single Room € 587,00
Cosy Standard Double Room € 828,00
Nice Comfort Single Room € 666,00
Nice Comfort Double Room € 888,00
Chic and large Business Room for 1 person € 786,00
Chic and large Business Room for 2 persons € 999,00
* Arrival daily
* Bookable according to availability
* Cancellation deadline: 14 days prior to arrival
* Children up to 5 years stay free in their parents' room. Children 6 – 14 years pay 50% of the single room rate.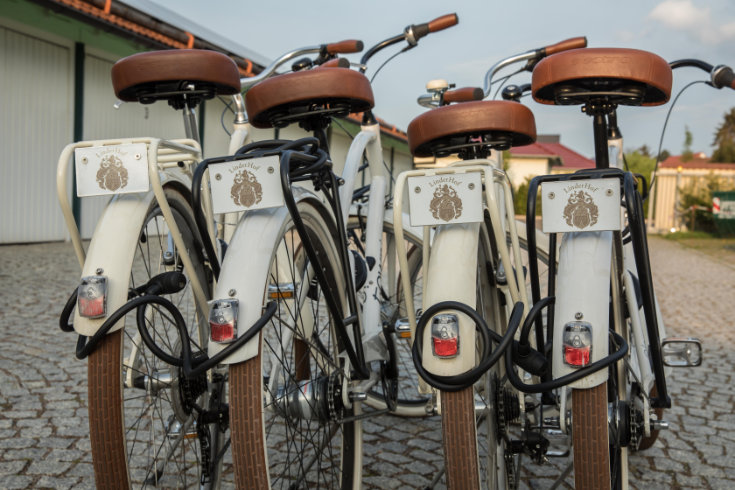 19+1 Tips for Your Thuringia Holiday
Relax and discover. Ideas for your excursion destinations in and around Erfurt.
1. Climb Erfurt's Cathedral steps and listen the Gloriosa ringing
2. Enjoy the view from the Petersberg in Erfurt
3. Experience the BUGA & take selfies in the sea of flowers
4. Walk through the Steigerwald and find the viewpoints
5. Eat Thuringian bratwurst
6. Listen to Erfurt's city guide and learn what the broad bean is
7. Enjoy chocolate and ice cream & stroll along the Krämerbrücke
8. Walk through the treetops in the Hainich National Park
9. Cycle along the Gera cycle path and discover the Thuringian Forest
10. Hike the "Drei Gleichen" and discover history with nature
11. Try good mustard in the Kleinhettstedt mustard mill
12. Discover baroque and rococo in Heidecksburg Castle
13. Visit the oldest planetarium in the world in Jena
14. Hike on most famous mountain trail, the Rennsteig
15. Visit Weimar the capital of Classicism
16. Enjoy the idyllic Ilmtal cycle path
17. Find harmony in the Chinese Garden in Weißensee
18. Look out from Ilmenau's local mountain with the "Kickelhahn" observation tower
19. For railway fans – take the Gotha Forest Railway.
+1. and what is your tip?